Eye make-up is enough to significantly improve the final look. A properly made can shape the eye in such a way that no eyeshadow or eyeliner is needed. As important as choosing the right mascara is the way you use it. Although women usually use this cosmetic from their early youth, many of them use it improperly. Contrary to the common opinion, eye make-up is not a piece of cake! How to paint eyelashes? What to do when they stick together? What are the properties and what does the mascara contain? When to buy a new one and how to take care of it?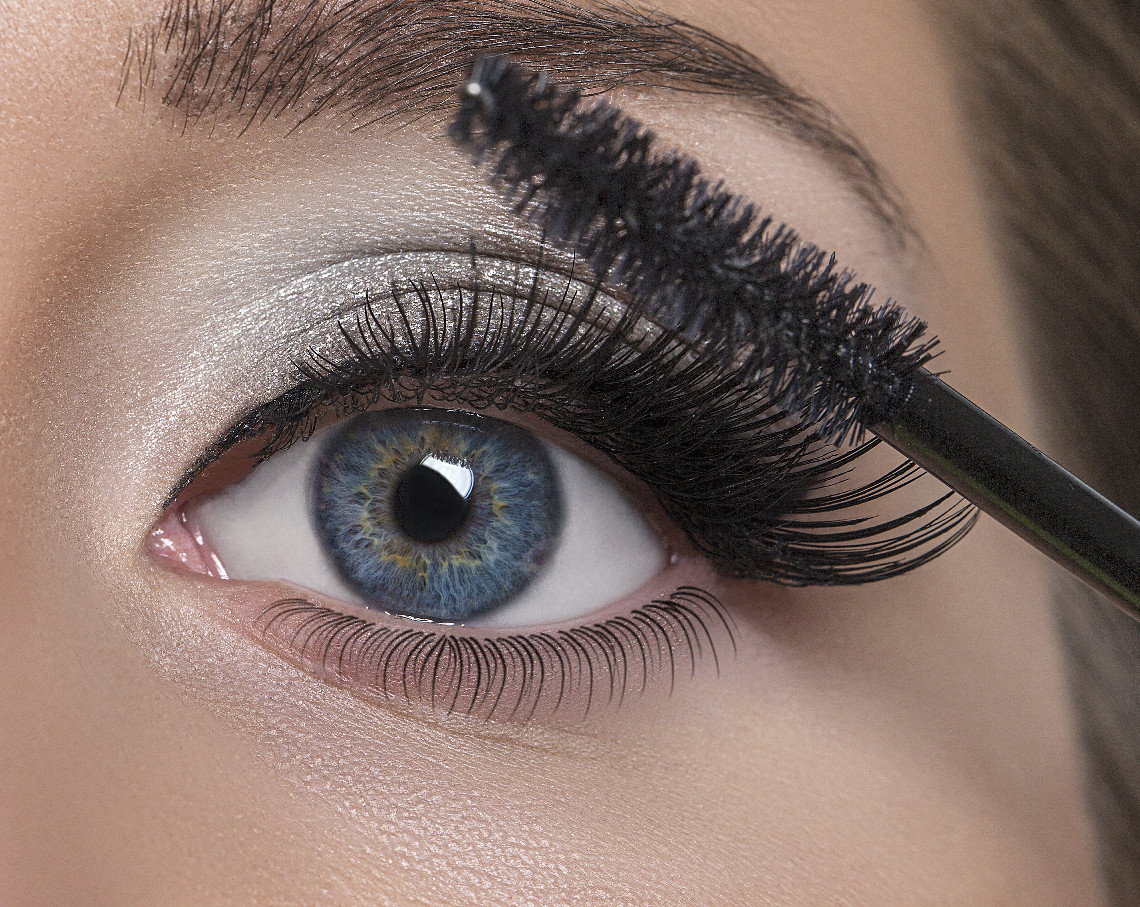 How to apply mascara?
Or rather: how not to apply? Certainly not like in the 1960s, when almost every woman had lashes sticking out like icicles from the roof. Generally, the technique should be applied to the shape of the eye, if you have a drooping eyelid, it's better to skip painting lower lashes. The same applies to very long lower lashes, if they are too highlighted they can disturb the shape of the eye. In such a case it's better to delicately brush the lower eyelashes just to make them visible. To lengthen and thicken the eyelashes, apply a light coating of translucent powder in between each layer. This way the eyelashes will be optically thickened and lengthened.
What to do when eyelashes stick together?
If you managed to stick your lashes together, try separating them with a special brush – a metal or a plastic one. Never use a pin for this purpose, it can be dangerous. While covering the upper lashes, move the brush slightly so that every lash can get in between the bristles of the brush. Only when this happens, move the brush along your eyelashes. This way they will be fully covered. The tip of the wand can be used to pull out the eyelashes growing in the corner.
It your mascara does not work properly, it might mean that it's not fresh any more. If your mascara has dried out, you can pour a drop of make-up remover. Don't do it if the mascara contains cashmere, because it will start smudging and flaking.
Mascara – composition and properties
Long time ago mascaras stopped being just a tool to add colour to eyelashes. Now it additionally thickens, lengthens, curls and nourishes. It is mainly thanks to the appropriate selection of ingredients. In order to strengthen eyelashes, mascara should contain vitamin E, ceramides and cashmere proteins, to nourish – keratin, plant wax and beeswax, and to moisturise and maintain elasticity – pro-vitamin B5 (panthenol), chitosan and plant wax and beeswax. The properties of thickening mascara is determined by the presence of aluminium compounds and silk particles, cashmere and mohair, and gloss- giving properties – silicone, durability – latex particles.
When to buy a new one?
The shelf life of mascara is usually 6 months. The packaging contains the PAO sign, the symbol of an open jar with the number of months during which the product must be used. If we happen to forget when we opened our mascara, it is worth looking at its consistency. If it has clearly changed, that is, the mascara has become dry, smells strange and smudges, it is better to throw it away.
Mascara is based on water, which increases the risk of multiplication of bacteria and other microorganisms, therefore the expiration date of this cosmetic is usually short. In addition, the mascara is used close to the eyes, so expired can cause a lot of damage.
How to care for mascara?
The mascara brush should be thoroughly washed at least once a week. This way you'll remove the dried mascara from the wand and help to preserve the original shape of the bristles. It is worth doing, especially since this way we will minimize the risk of sticking, and thus overloading eyelashes. What's more, a clean brush prolongs the life of mascara.
Eyelash make-up – tips
In order to remove the waterproof mascara, use special cosmetics for this purpose. Otherwise, you might not be able to remove it entirely and consequently, it may irritate the eye.
After each use, make sure you close the mascara properly, because it contains volatile oils that evaporate when there is air in the container. When it happens, mascara loses many of its properties.
Slowly and gently put the brush into the package.
Women who wear contact lenses should avoid eyelashes that contain thickening and lengthening particles, because such mascaras can smudge.