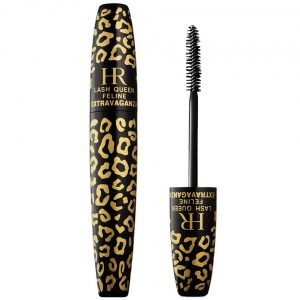 Extravagance on eyelashes! This is how users of Lash Queen Feline Extravaganza comment on the cosmetic. If you decide to give a try to this mascara, then beware because this cosmetic will definitely turn your everyday makeup around. What is so impressive about this inconspicuously looking product? Bloggers, makeup artists and beauticians, along with all the women who value pretty appearance, see eye to eye with each other on one matter. Helena Rubinstein brand knows what women need and this is why the colour cosmetics it designs are so incredible.
Lash Queen Feline Extravaganza Mascara gifts your eyes with mysterious and expressive look. What is more, eyelashes gain deep, pitch-black colour, new, doubled volume and extreme extension. Thanks to Helena Rubinstein mascara, eyes seem to be bigger, makeup more elegant and look wins new character. Although the product can be bought only in a black shade, it will look just perfect even when applied on fair eyelashes. Lash Queen Feline Extravaganza will dot the i's and cross the t's of evening, office and smoky eye makeup. Moreover, it performs well when used for summer makeup, when eye shadows and eyeliners are not that necessary to wear. Unfortunately, Helena Rubinstein's product is not waterproof.
Lash Queen Feline Extravaganza Mascara amuses not only with its intensive colour but also with impressive outcomes it produces. When it comes to applying makeup in general, you will probably agree that effortlessness is important. And a brush plays quite a role in this matter. The applicator in Lash Queen Feline Extravaganza Mascara was designed in such a way to make eyelashes bold and thick easily. The brush's bristle is arranged evenly, is set rather densely, and is stiff enough to separate eyelashes and coat them with appropriate amount of the product. Do you know how to apply Lash Queen Feline Extravaganza? If you really look forward obtaining a blinding effect, follow the pieces of advice of Helena Rubinstein experts. Here they are! Glide the brush heading eyelash tips, starting from the very roots. To coat all eyelashes evenly, look downwards while applying the product. Certainly, try not to blink. In a case, you care for producing the effect of super dense and black eyelashes, apply two or more coats of the cosmetic. Your new eye makeup will amaze everybody!