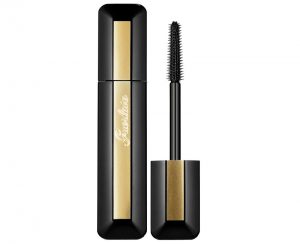 Admit it, you are dreaming about having thick and long eyelashes, aren't you? What do you do to make your eyelashes look this way? Do you have false extensions attached in a beauty parlour? Wrong! Become an expert in makeup field today! Maxi Lash So Volume by Guerlain will make it easier for you. Suffice to apply only one coat of the mascara and your eyelashes will become captivating. Your girlfriends will envy the new and splendid eye makeup of yours.
Maxi Lash So Volume provides incredible and dramatic change to your look. Thanks to the product, delicate and romantic look turns into sexy and vampy expression. Red lipstick and strongly defined eyes will make your new style complete. Imagine yourself wearing this bold makeup. And now think, would not it be an unforgettable experience to, even just for one day, become somebody completely different, catching eyes of everybody around and charming with the makeup? Guerlain Maxi Lash So Volume Mascara, except extending and boosting volume, makes eyelashes nourished and intensifies their colour. The product is available in one Deep Black shade, which shine is brought out by oils. These natural substances are also responsible for providing appropriate density of the product and counteracting smudges or flaking off. Did you know that Maxi Lash So Volume, as one of a few, contains fragrances? These are fruit and plant notes in particular (peach, raspberry, jasmine and white musk).
The brush of Guerlain's mascara was designed to reach even the tiniest eyelashes. The bristle gets narrowed upwards, which is why, the applicator resembles a cone. Due to the very shape of the brush, we are able to obtain satisfying curl of eyelashes. At the same time, our eyes become optically bigger. Even eyes with dropping eyelids look good when coated with Maxi Lash So Volume. The formula of the mascara is creamy and delicate, therefore it does not weigh down nor clumps eyelashes together. How to apply Guerlain's mascara? The easiest method of putting on Maxi Lash So Volume is using, so-called, zigzag motion. To clarify, put the brush at the roots of eyelashes and by moving it from right to left glide it up to the tips. You will see, your eye makeup will be incredible!