There are many ways to have nice, emphasized eyelashes. The most popular solution is mascara, which, unfortunately, requires daily application and, even worse, everyday make-up removal. Some women, who are fed up with it, decide to try something different – henna. Henna allows you to obtain the effect of beautifully highlighted eyes and save some time. Before you find out how to prepare for it and how to apply, check what exactly henna is and what are its properties.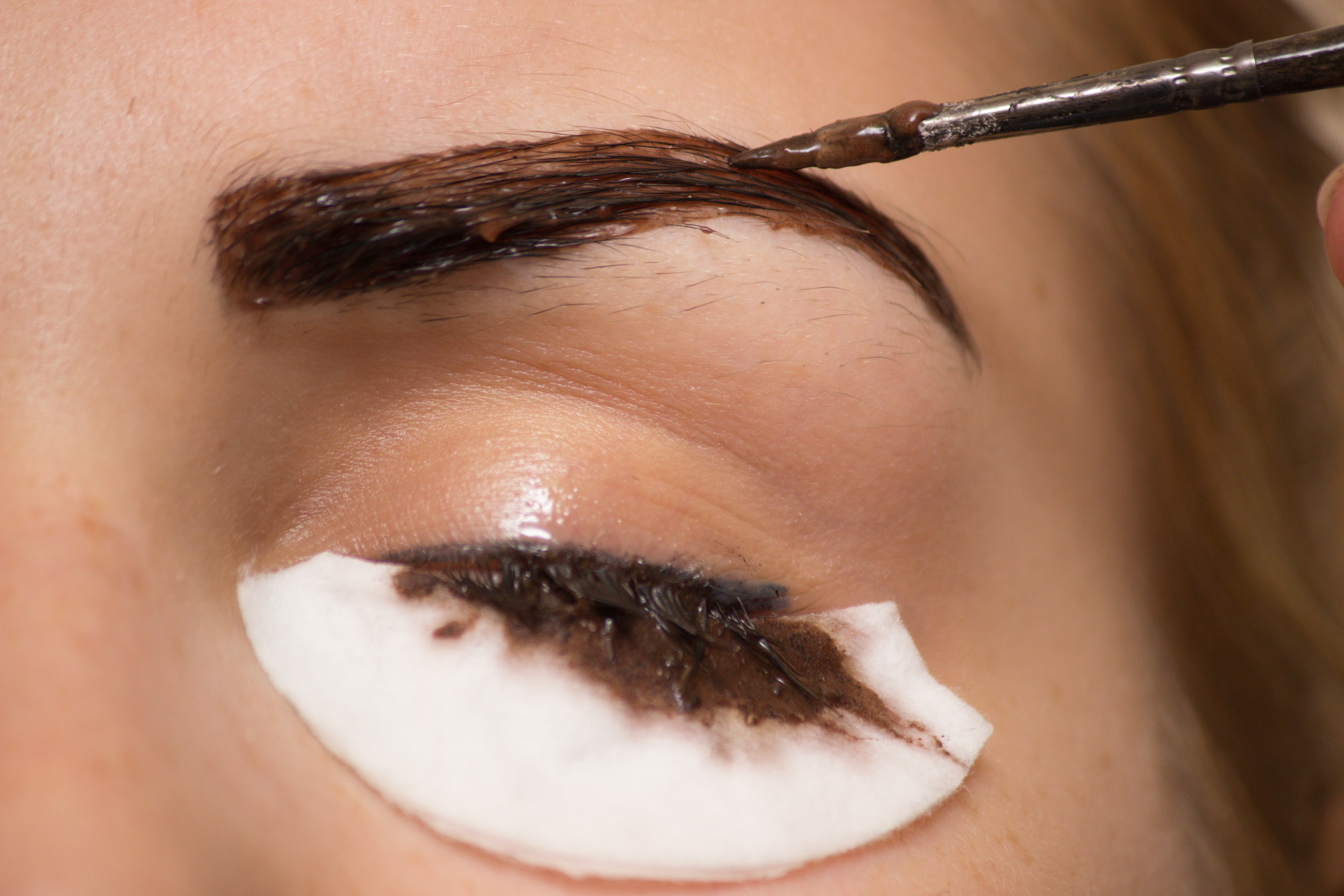 What is henna?
Henna is a plant that can be encountered in tropical areas from India through Australia and Africa to Latin America. Its leaves are dried and then turned into a fine powder. When dried, it does not lose its properties and a small amount of water is enough to restore its liquid consistency. Henna is rich in calcium, magnesium, potassium, zinc, iron, copper and manganese, as well as enzymes, fibre, vitamins A, B and D, as well as oleic and linoleic acids.
Henna – properties
Henna is famous for its colouring properties. During Turkish baths, also known as hammam, henna is used to give the body an even, slightly brown shade. This way the skin looks healthy and bright. In addition, henna softens the skin, which in effect is smooth and pleasant to the touch.
Henna dyes not only the skin, but also hair. How? The dye goes directly into the hair, where it binds to keratin. Hair rinses with henna make them take on a darker colour, that looks more natural than obtained with any colouring shampoo or paint. What's important henna does not damage the hair condition, so it's not harming even during long-term use. Keep in mind that the effects are not immediate and depend on the initial hair colour.
Henna is also used to darken eyelashes and eyebrows. Henna treatments can be performed in most beauty salons as well as at home.
Henna – medicinal properties
Henna has not only cosmetic but also medicinal properties. In traditional medicine, substances derived from Lawsonia have been used in the treatment of many diseases and conditions, such as leprosy, chickenpox, measles or diarrhoea. Islamic medicine long time ago identified individual parts of the plant to have different properties. Lawsonia extract is used to treat jaundice and venereal diseases, the seeds – for the treatment of dysentery and liver diseases. In traditional medicine even the bark was used to produce a soothing agent. Also, the leaf extract with butter and honey cures chest infections, pulverised root combined with indigo causes miscarriage. Henna is also used to treat eczema, psoriasis and other skin diseases.
Already in antiquity it was discovered that henna has anti-dandruff properties, especially in combination with tar and oil. This paste nourishes and strengthens hair and also acts against dandruff. Also, henna protects hair and skin from solar radiation, improves hair structure and closes the cuticles, and thus gives them smoothness and gloss.
How to prepare?
Henna is available in two forms: powder and cream. Henna in a cream is easier to use so it's a better option. You can choose between one of three colours: black, brown or graphite. To get a different shade, the basic colours can be mixed. In general, black is for brunettes, brown and graphite for brown-haired and blondes.
In addition to henna, make sure you have:
hydrogen peroxide,
a clean mascara brush (preferably silicone),
a small container to mix henna,
cotton pads,
fat cream or petroleum jelly.
How to dye your eyelashes with henna?
First, remove your make-up. Check if there are no make-up residues. If your make-up remover is in the form of oil, use water to degrease your lashes. They need to be dry and clean.
Apply the cream or vaseline to the area around your eyes. Thanks to this, you will protect your skin from tinting.
In a small container, squeeze some henna from the tube or pour some henna and add a few drops of hydrogen peroxide. Adjust the proportions so as to obtain a thick consistency.
Apply the paste using the brush. Start with the lower eyelash line, put the cotton pad under and apply the paste from the roots to the ends. Then apply it to the upper eyelashes.
Depending on the intensity of the desired colour, wait about 10-15 minutes before you wash your eyelashes with warm water. You can use soaked cotton pads as well.
Effects
The effect lasts for about 7 days. Every few treatments it is worth using a good eyelash serum that will strengthen lashes.