It is one of the basic makeup products. Women like to shop for mascaras. Considering the wide choice of mascaras, it seems to make sense. How to choose a mascara? What types of mascaras are there? What ingredients should be found in a perfect mascara? Which spiral shape and mascara color should you go for? Does it pay off to invest in a nutrient-rich, hypoallergenic or lash-conditioning mascara? Which one makes the best choice – traditional liquid mascara, creamy product or mascara stone?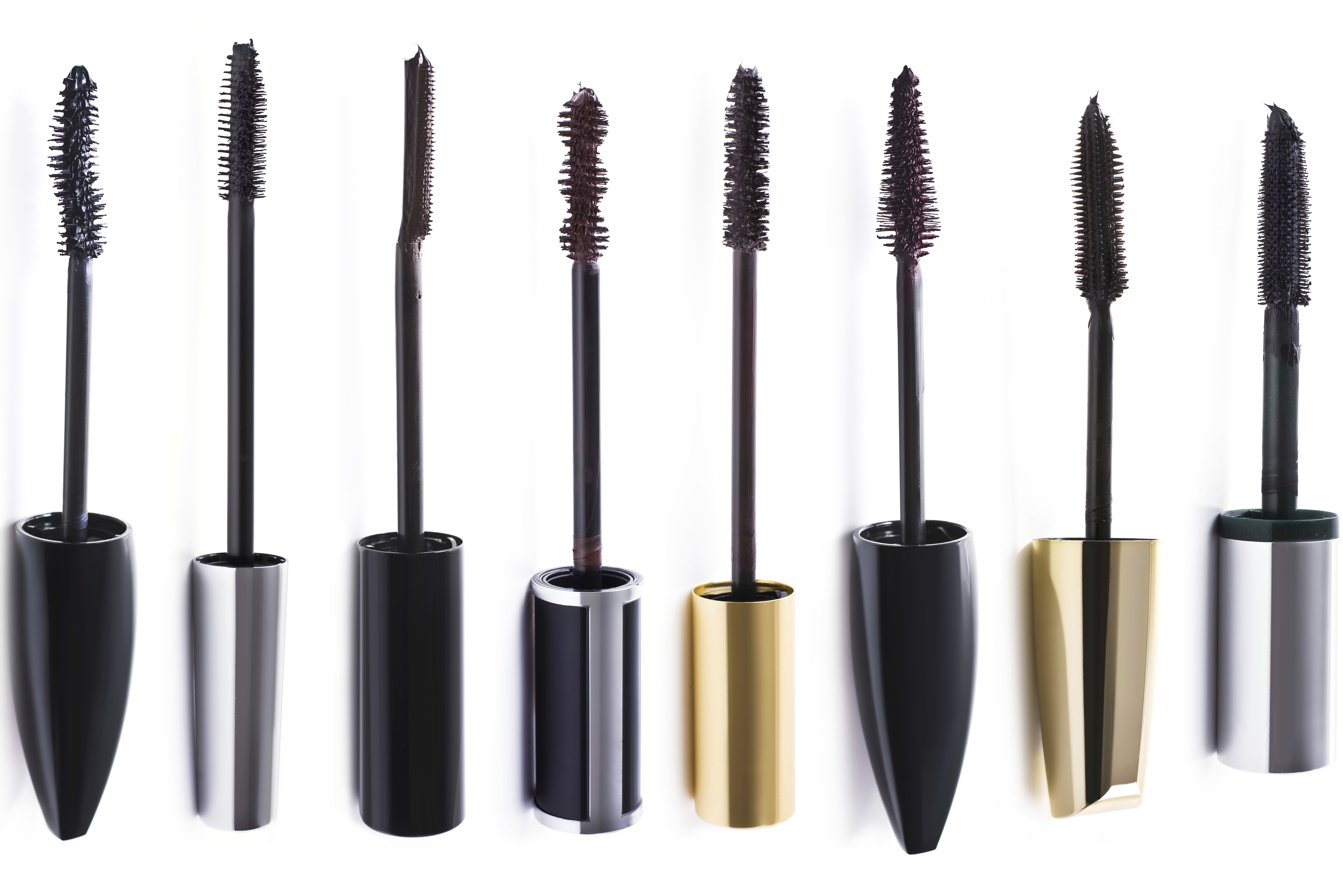 Mascara types
From the technological point of view, there are two types of mascaras: waterproof and water-based mascaras.
Waterproof (water-free) mascara is produced through mixing, heating and shaking the ingredients until they turn into a semi-hard product. This kind of mascara is a mixture of waxes, oils and pigments. It makes a good summer choice because it's going to hold on through the sea bathing, swimming pool or a tough workout. A waterproof product also works for the autumn season when regular mascaras flake off due to air humidity. This product won't disappoint you even when you feel like shedding a tear at a moving ceremony. On the other hand, water-free mascara is hard to take off. Makeup removal is troublesome yet possible. The weight is another flaw of waterproof mascaras, a long-term use may weigh down your lashes. Consequently, they are no longer firmly rooted in follicles, which leads to lash loss.
When it comes to water-based mascaras, they come off easily. This type is made through heating and mixing wax components and emulsifiers. Then, pigments are added. The non-waterproof mascara answers the needs of fragile, delicate eye skin and sparse brittle lashes. Soft, light consistency which doesn't overload lashes is another good side of this product whereas not giving long-lasting effects is definitely a flaw.
Mascara – composition
A modern mascara is much different than the mascara made in the 20th century – both in terms of design and ingredients. Substances such as powdered coal, lead sulfate and soot were used whereas mineral and silicone oils are included in today's mascaras (for easier application). Waxes make the mascara cling to lashes for better thickening effect. Polymers enhance lash elasticity whereas pigments deliver a desired shade. Too bad, many mascaras contain crude oil derivatives, fatty alcohols and glycol which may trigger allergic reactions and irritations.
Lash-enhancing mascara
Enhancing substances such as collagen, keratin and silk proteins make up a separate group of mascara ingredients. They are used in order to lengthen and add volume to lashes, therefore, they are mostly recommended for those of you facing up to lash loss or damage. Some mascaras are enriched with lash-strengthening vitamin B or ceramides – cut out for brittle, sparse lashes.
Hypoallergenic mascara
Mascaras designed for allergy sufferers make up another category. They contain hypoallergenic substances such as wax (e.g. beeswax), water, iron dioxide and cosmetic clay pigment. Moreover, they are enriched with irritation-soothing components such as panthenol and Aloe. Hypoallergenic mascara is fit for contact lens wearers and people who have sensitive eyes. Few people know that safe, fragrance-free ingredients, which reduce the risk of allergic reactions, have some downsides. Namely, hypoallergenic mascara flakes after just a few hours of wear. The effects aren't as spectacular as the ones given by a regular mascara.
Organic mascara
This type contains ingredients from organic crops. Mascaras are based on glycerol, cornstarch or clary sage extract, and infused with Shea butter and oils such as macadamia or avocado oil. Not only do organic mascaras beautify the lash line but also affect the condition of lashes.
Shape of the spiral
The shape of a wand spiral gives the product specific qualities – e.g. lengthening, thickening, lifting. In order to increase volume, choose brushes with dense bristles. If you want to make the lash line look longer, go for slim straight silicone brushes. A curved wand, on the other hand, gives lashes a curl. When it comes to small round brushes, they effectively enhance lower lashes.
Mascara – color
The color of the pigment is another key criterion for choosing a mascara. Natural shades – black and brown – enjoy the highest popularity but you're spoilt for choice and you can get an unusual shade. The best way for picking the right color is matching it to the color of your iris or hair. Hazel eyes are good match with blue mascara which enhances the black and brown color of the eye. If your eyes are green or nutbrown, try violet pigments. Blue eyes make the best match with sapphire and turquoise mascaras. Blonde or red-headed women should choose brown products whereas brunettes should get black mascaras.
Liquid, cream or stone mascara?
Mascara has a form of fluid, cream or stone. Everybody knows liquid mascaras so there's no point in discussing it. A cream mascara is quite heavy and coats lashes throughout their length with a thick layer of the product so it is cut out for sparse lashes. You can enhance the effect using a stone mascara – a quite rare product among women.