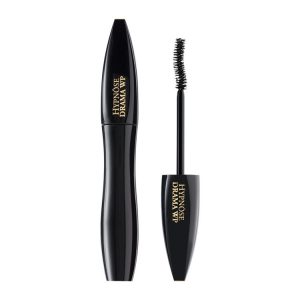 Probably you are wondering, what should be done to hypnotise others with just one glance. Women who achieve almost everything in makeup art know something about it. Follow their footsteps and coat your eyelashes with Lancôme Hypnôse Drama Mascara. You will see that nobody will remain indifferent to your look, including men.
A precisely designed brush of Hypnôse Drama Mascara guarantees out-of-this-world look. Eyelashes are bold, their volume is doubled, and colour intensively black. The outcomes are even more escalated when three coats of the mascara applied. You do not have to worry about clumped eyelashes. Hypnôse Drama Mascara mascara contains waxes which facilitate gliding the brush along eyelashes without putting any effort into this. All you have to remember though is to let one coat dry up a little bit before applying another one. For obtaining better results, separate the eyelashes with a small brush afterwards. What is interesting, Lancôme Hypnôse Drama Mascara contains black pigments of natural origins and B5 pro-vitamin. The composition lacks fragrances. What is more, the product was tested dermatologically and ophthalmologically. It is recommended to contact lenses and glasses wearers. Lancôme Hypnôse Drama Mascara is available in a waterproof version which is named Hypnôse Drama Waterproof as it is available in travel-size too.
Lancôme Hypnôse Drama Mascara's brush is S-shaped. Bristle, which is set on the tip of the applicator, is relatively short. Owning to the very shape, the applicator enables to apply almost flawless eye makeup since it coats all, even the tiniest eyelashes evenly. How to use Lancôme Hypnôse Drama Mascara? Coat upper eyelashes starting from their roots and move the applicator parallel to eyelid. Thanks to using the tip of the applicator coat lower eyelashes, setting it perpendicularly to the eyelid. The excess of the product can be removed by rubbing the applicator against the mouth of the tube. Eye makeup for big event is now ready!