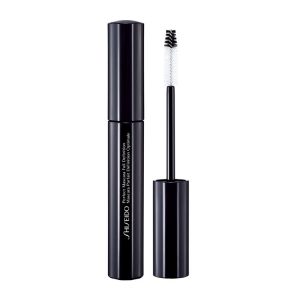 Long, precisely separated, without clumps and stains – these are the eyelashes that every one of us is dreaming about. Unfortunately, only some are fortunate enough to make that dream come true. Learn the secret of the girls who astonish with their beautiful look. Their secret is Shiseido Perfect Mascara Defining Volume.
Shiseido brand has designed Perfect Mascara Defining Volume for eye makeup lovers. What is so impressive about the cosmetic that more and more women is reaching out for it? Regardless of the background, age or makeups skills, women pay tribute to the above-mentioned mascara by Shiseido. The product adds volume to eyelashes, separate them and prevents clumping. Light formula provides smudge-free effect. What is more, the mascara does not leave clumps nor flakes off. Shiseido Perfect Mascara Defining Volume smooths, adds gloss and nourishes eyelashes. Thanks to the mascara, eye makeup is defined and beautiful.
Application is eased due to the light consistency of Shiseido Perfect Mascara Defining Volume. In the composition, we can find waxes that facilitate gliding the brush along lashes. What is more, the waxes are responsible for adding natural shine and providing bold effect to eyelashes. The product is recommended to people with sensitive and irritation-prone eyelid skin as well as to those who wear glasses and contact lenses. The mascara contains neither fragrances nor artificial substances. The product was tested by dermatologists and ophthalmologists. We can choose among two colour versions of Shiseido Perfect Mascara Defining Volume, black and brown. One bottle contains 8 millilitres of the colour cosmetic.
Brush of Shiseido Perfect Mascara Defining Volume is equipped with dense and even bristle. Such an applicator works perfectly for making eyelash thicker right from their roots. If the eye makeup is done precisely, you will no longer need any eyeliner or eye pencil. The choice is yours!