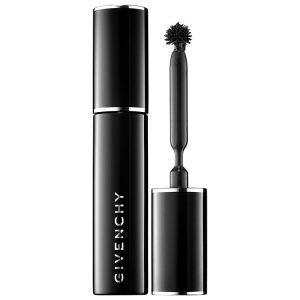 You can have phenomenal look thanks to Phenomen'eyes mascara by Givenchy! It is one of a few mascaras having such an interestingly looking brush. This in turn has its consequence in the splendid outcomes the mascara produces. What is achieved thanks to this original makeup product?
Phenomen'eyes mascara by Givenchy provides curl and long-lasting effect. Polymers included into the composition gift eyelashes with intensive colour, define the curl and extend eyelashes. Moreover, when applied, the product dries up fast without flaking off or smudging the eyelids. Our eye makeup will astonish others all along! Black pigments, which are included into Phenomen'eyes mascara, make eyelash colour more intensive as the look gains new character. The mascara can be used for every possible kind of eye makeup – beginning with daily one, ideal for work, through romantic that is perfect for a date and ending at evening and party makeup. Givenchy brand took care of each women enabling them to coat their eyelashes with the product. What does that mean? The mascara can be bought in two colour variations brown for blonde-haired people and black for brown-haired people. Phenomen'eyes mascara by Givenchy is also available in waterproof version and can be recognized by a white phial.
Despite having untypical brush, application of Phenomen'eyes by Givenchy is easy. How to do makeup with the cosmetic? Firstly, coat upper eyelashes. Vertically set applicator reaches eyelash roots, making eyelashes separated and curled. If set at angle, the applicator coats eyelashes located in the inner and outer corners of the eyes. Horizontal set of the brush makes upper eyelashes curl even more defined. Lower eyelashes have to be coated using only tip of the applicator. Eye makeup with Phenomen'eyes mascara by Givenchy is ready!