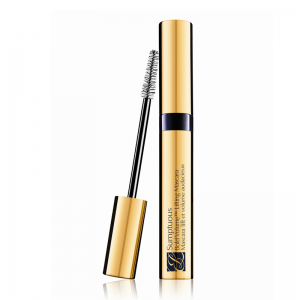 Estee Lauder Sumptuous Extreme is able to make your eye makeup extremely beautiful. Makeup artists and stylists confirm that the mascara will top every look up regardless of the occasion or time of day we are applying the mascara for. Thanks to the colour cosmetic, you can create toned makeup ideal for office or a banging one for wild party that lasts to the small hours. You will not see for yourself unless you give a try to this amazing product. You will not regret!
Multiplied volume, maximum curl and precisely separated eyelashes – this is the final outcome Estee Lauder Sumptuous Extreme is going to produce on your eyelashes. Owning to the product, eyelashes are perfectly arranged making eyes look bigger. Moreover, the look is elegant and, as described by some bloggers, glamourous. Why do women all around the world love this mascara? Well, they adore the product because of its easy application, friendly composition and the professionally designed brush. The great advantage of the cosmetic is its ability to make eyelashes shine as it takes care of eyes – it was tested by ophthalmologists. Using Estee Lauder Sumptuous Extreme is recommended to contact lenses and glasses wearers. The product does not contain any fragrances but pigments that add amazing and intensive colour to eyelashes.
What should be done to make eye makeup remain stunning all day? The secret of perfect eye makeup lies in the precise application of Estee Lauder Sumptuous Extreme. Start form coating lower eyelashes. Bow your head down but keep looking upward. At the beginning, this way of applying mascara might seem strange but you will get used to doing it. It is just a matter of time. Then, move to coating upper eyelashes. In order to make them as thick as possible, place the applicator on the eyelash root line. Coat the eyelashes but only to their mid-lengths. At the end, coat entire length of eyelashes. The effect of thick eyelashes might be escalated by applying an eyeliner along eyelash root line. Now you can boast about your new eye makeup!