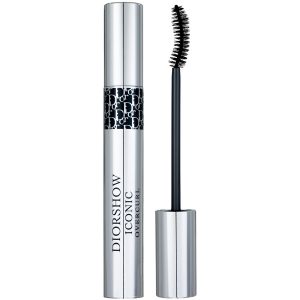 Big volume and spectacular curl of eyelashes. This is the very effect produced by Christian Dior Diorshow Iconic Overcurl. After applying the product, you will notice the eyelashes getting the look you were not even dreaming about. Both special formula and the brush adjusted to the shape of eyelids make eyelashes even bolder and longer than you might expect.
Christian Dior Diorshow Iconic Overcurl curl eyelashes dramatically. Polymers, which are included into the product's composition, help the makeup stay even up to several hours. Eyes will become stunning and your new look will astonish all your friends. Additionally, for the curl are responsible the creamy consistency and the shape of the brush of Diorshow Iconic Overcurl. Did you know that Christian Dior mascara can be removed with just warm water? Obviously, the most effective for this procedure will be makeup removing lotion or a delicate cosmetic milk. Furthermore, eyes and eyelashes are taken care of due to waxes, oils, lipids, soy peptides and cotton extract. Owning to these ingredients, skin of eyelids will be more pampered, eyelashes nourished and moisturized as we will avoid unpleasant irritations caused by synthetic substances included into various mascaras' compositions.
Shape of Christian Dior Diorshow Iconic Overcurl brush is similar to the gadgets and items that are used for hair and eyelash styling. Probably, while designing the brush, eyelash curlers and rollers inspired Dior experts. The applicator is expected to provide long-lasting curl, effect of bigger eyelashes and stunning look. Contrary to what one might expect, application of Christian Dior Diorshow Iconic Overcurl is not difficult at all. The brush has to be put near the eyelash root line, just to make it touch the edge of the eyelid. Next, the product has to be distributed using the zigzag motion. The bristle is soft enough to pick each eyelash up, separate them counteracting clumping.
Drugstores offer three versions of Christian Dior Diorshow Iconic Overcurl. We can choose among: black shade (Over Black), navy blue (Over Blue) and brown (Over Brown).